Customer Success Story: Kokoro Sushi • Tapas Lounge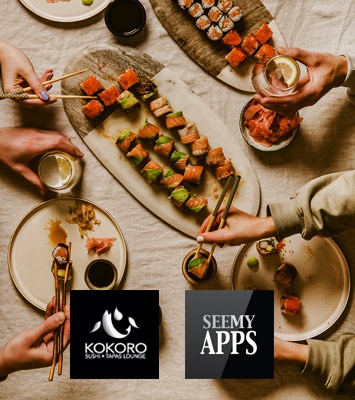 Author: Marie Aglave
Specialized in Japanese fusion cuisine, Kokoro Sushi • Tapas Lounge is a cultural Japanese Tapas restaurant based in Montreal combining both modern and traditional specialties.
SeeMyApps is thrilled to be working with Kokoro since 2017. The partnership began with the Kokoro Sushi Gift and Rewards Program and the trust was quickly established upon inception. Today the relationship has evolved into implementing the support of the following optimal services:
• Online Ordering
• Email Marketing Campaign
• CRM: Customer Service
In an interview during the COVID pandemic, restauranteur and owner of Kokoro Sushi • Tapas Lounge , Rika Sak delighted SeeMyApps with the following feedback and comments.
When it came to choosing a customer centric service provider to help Rika's business with providing the best customer experience on the market, SeeMyApps was the obvious choice.
" Every business looking to expand and strengthen their connection with their consumers, needs to implement solutions from SeeMyApps. It is just so convenient and there is absolutely no risk to try it! "
SeeMyApps combines several services, essential programs for businesses to implement, develop, and handle to improve customer satisfaction. It provides tailor-made solutions enabling businesses to exceed customer expectations and increase store sales.
For Kokoro restaurant, SeeMyApps started by implementing the gift card and loyalty program. Rika, was quickly convinced by the program's ability to significantly target specific clients. Using the SeeMyApps Marketing tools, she easily noticed a sharp improvement to the frequency of customers visits to the restaurant, largely in part to the personalized bonus reward offers to members and its correlated generated sales through each marketing campaign.
" People are far more likely to come back when rewarded for it! "
The SeeMyApps services share a common value; they have all been engineered with the expressed interest to exceed the brand's customer experience and focus on customer satisfaction. Today, Kokoro Sushi's customers receive personalized emails every month with promotions permitting them to take advantage of limited time offers and benefits for their next purchase at Kokoro Sushi • Tapas Lounge.
" This is one of the reasons why our customers feel special and want to return more often. "
In addition to the positive return ratio, the SeeMyApps combined services have helped nurture the growth in customer / membership enrollment and has instilled the power of word-of-mouth among existing customers, which is no surprise when " 92% of consumers believe recommendations from friends and family " .
Rika quickly recognized the efficiency of combining the different services provided by SeeMyApps through the implementation of a fully integrated solution with Kokoro's POS system. All of the Kokoro gift and loyalty transactions are concluded upon the mode of payment per purchase within the POS, thus eliminating any employee errors and rewarding the customers accordingly.
" One of the biggest advantages with SeeMyApps is the comprehensive integration of all the services offered within the POS system. No need for any additional party applications, which makes the management of our business so easy. "
The installation of these diverse services is effortless and trouble-free. The entire staff at Kokoro got used to it upon implementation, and all agreed it is incredibly efficient.
Another benefit reported by Rika is using the CRM: Customer Service integrated solution offered by SeeMyApps. This service handles customer's requests; permits the business to get feedback and respond to subjects in regards to the programs, restaurant, its products and service.
This service permits the business to remain available at all times; it immediately lets customers understand that the business is attentive, responsive, and permits each customer to receive a personalized responses with the ability to exceed their expectations upon every request.
" I could instantly add rewards to a member or issue promotional dollars whenever needed to remedy or exceed the customers experience. This information is stored within the customer's profile and the results are relayed to the customer. This solution protects my business, makes me feel safe knowing that my customer's concerns have been met and permits me to completely focus on other matters related to our restaurant. "
The partnership between Kokoro and SeeMyApps keeps strengthening and growing year after year. The restaurant is now offering the SeeMyApps online ordering platform: ShopAchat, once again completely integrated within their POS system.
" It seemed just logical and convenient for all to implement the online ordering solution. After COVID, many customers have taken the liking of pre-ordering to pickup and/or having their orders delivered. Furthermore, our customers are now able to open their membership profiles online, place orders and continue to earn their Kokoro Rewards."
In a post-pandemic world, with " 30.5 million online shoppers estimated in 2025 in Canada ", it is crucial that companies transform their vision into a more digital model and opt to implementing comprehensive online solutions like those offered by SeeMyApps.
" Our experience with SeeMyApps has been the best so far. Each year they have new services to optimize our ability to deal with customers. It's useful, practical and efficient. At any time, we could see the activities of any one of our clients."
Account manager,
Marie Aglave
For details on the services offered by SeeMyApps, you may Contact SeeMyApps by email support@seemyapps.com or by telephone 1.888.899.8897 to set up your free consultation today.
---
About Seemyapps
SEEMYAPPS (SEE MY APPLICATIONS) is the simplest way to get your customer program up and running with the following services: Gift cards - Reward programs - Membership Enrolment – Refer-A-Friend – Communications - Surveys - Mobile APP - Ecommerce. Every day, we have thousands of users nationwide using our platform. Founded in 2011, our team is based in Canada and is open to working with partners around the globe.
About SEEMYAPPS
SEEMYAPPS (SEE MY APPLICATIONS) is the simplest way to get your customer program up and running with the following services:..
Spokesperson
Nathalie Payette
PR Coordinator
support@seemyapps.com
Press publications